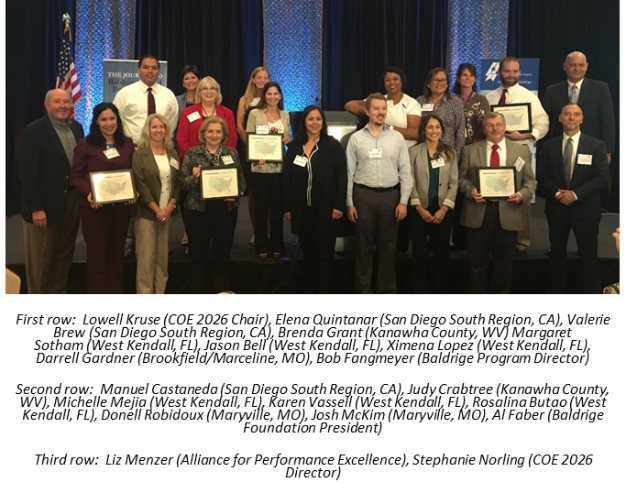 Tempe, Arizona – On October 27, five communities received the first-ever recognition for their commitment to the health and wellbeing of residents and pursuit of community performance excellence.  The "Commitment to Community Excellence" Certificates were presented by Communities of Excellence 2026, a nonprofit organization dedicated to improving the performance of American communities during a luncheon at the 2017 National Baldrige Fall Conference. 
The five communities are Brookfield/Marceline, Missouri; Kanawha County, West Virginia; Maryville, Missouri; San Diego County's South Region, California; and West Kendall, Florida.
In September, these five communities submitted their Baldrige-based Community Profile, an example of an improvement they've made as a result of their Process Improvement System, and the key results they intend to track on their Communities of Excellence journey.  A volunteer team of reviewers then provided an assessment of the Profiles, including highlights and considerations to help the communities better serve their residents and continue their community performance excellence journeys.
"We cannot overstate the significance of the contribution these five communities are making to help launch this new approach to improving the lives of residents throughout our country, "said Lowell Kruse, Chair of Communities of Excellence 2026.   "We know that children are educated, jobs are created, health improves, etc. all at the community level. Helping communities improve their performance is ultimately the best way to improve America. We are proud of them and thank them for the willingness to help pave the way for others who will be involved in this important work in the years ahead."
The criteria for recognition were developed in partnership with the Baldrige Performance Excellence Program.  In parallel with Baldrige, the purpose of Communities of Excellence 2026 and the Recognition Program is threefold:
1.   To develop a nationally recognized standard of community performance excellence;
2.   To establish role models of that standard through the Recognition Program; and
3.   To encourage continuous improvement through sharing of best practices and provision of feedback to communities on their performance excellence journey that will lead to better outcomes for the residents they serve.
"The entire Baldrige community is excited by the progress being made by these communities to achieve ever-higher levels of performance and improved quality of life for their residents," said Robert Fangmeyer, Director of the Baldrige Performance Excellence Program.  "Seeing their enthusiasm and excitement reminds us all of the transformational power of the Baldrige Excellence Framework and we look forward to continuing our partnership with COE2026 to spread this effort across the nation."
Visit our website for more information about the five communities
Contact: Stephanie Norling
858-342-8185 or snorling@communitiesofexcellence2026.org
About Communities of Excellence 2026
Communities of Excellence 2026's mission is to improve the quality of life for our nation's residents by assisting communities in implementing the Baldrige-based Communities of Excellence framework.