Read Kanawha County's Baldrige-based Community Profile here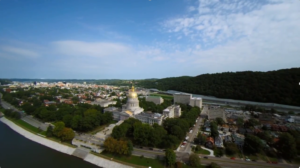 A total of 190,781 people live in Kanawha County, making it West Virginia's most populous county. Its county seat is Charleston, the state capital.  Kanawha County is part of the Charleston, West Virginia Metropolitan Statistical Area- the state's business, financial, medical and governmental center. Kanawha County encompasses 902 square miles. Within Kanawha County there are 8 cities, 8 towns and 12 unincorporated communities.  75% of the county is urban; 25% rural.
Between 2000 and 2010 the population fell by 7,010 persons, a change of -3.5%.  89% of the population is white, 7% African-American and 4% other.  26% of all occupied households are family households with one or more children under the age of 18.  The median age is 42.8; with nearly 18% of the residents age 65 or older.
Key sites and landmarks include the Clay Center for Performing Arts, West Virginia State Capitol, West Virginia Cultural Center, South Charleston Mound, Mardi Gras Casino and Resort and the Charleston Civic Center.  Charleston is also the home of the West Virginia Power Baseball Team, a class-A affiliate of the Pittsburgh Pirates.
Kanawha County serves as the central employment location for a nine-county area.  More than 11,000 people commute from neighboring Putnam County, while more than 2,000 people commute from Boone and Lincoln counties respectively. It is not uncommon for talented workers to enjoy the quality of life of a more mountainous region of West Virginia and travel up to an hour one-way for work in the Capital City region.
Kanawha County has nearly 80,000 employed, an unemployment rate of 5.4% and a labor force participation rate of 53%. Over the past year, the unemployment rate has decreased by 1.1 percentage points.
Kanawha County's health care providers include:  Charleston Area Medical Center, West Virginia's third largest employer and the largest not-for-profit hospital in WV; Thomas Health System, Highland Hospital, the Kanawha-Charleston Health Department (the first accredited Public Health Department in WV), West Virginia Health Right and Family Care, a Federally Qualified Health Center.
The Kanawha Coalition for Community Health Improvement has been in existence since 1994 addressing health needs in Kanawha County.  Its mission is to identify health risks and coordinate resources to measurably improve the health of the people of Kanawha County. Its members include the county's hospitals, behavioral health facility, federally qualified health center, United Way, local health department, school system, faith-based partnership, business alliance and the State Bureau for Public Health.