San Diego County's South Region, California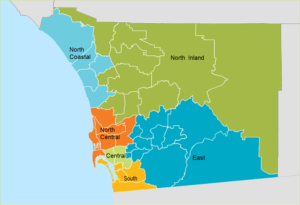 Read San Diego County's South Region Baldrige-based Community Profile here
The community is comprised of four cities and the unincorporated communities in the south of San Diego county. The four cities are National City, Chula Vista, Imperial Beach and the City of San Diego's San Ysidro, Otay Mesa, and Nestor Mesa neighborhoods.  The unincorporated areas are Bonita, Sunnyside, Lincoln Acres and East Otay Mesa.
The community is bordered by the City of San Diego's Logan Heights, Barrio Logan, Southeast San Diego, Encanto, and Skyline-Paradise Hills neighborhoods to the north and the United States-Mexico Border to the south, which includes the San Ysidro Land Port of Entry (LPOE), the busiest land border crossing in the Western Hemisphere, processing an average of 50,000 northbound vehicles and 25,000 northbound pedestrians per day (U.S. General Services Administration).  To the east, the area has a boundary with the Otay and San Miguel mountains.  To the west, the cities are bound by the Pacific Ocean.  The community is primarily located in the County of San Diego's Supervisorial District 1 and is served mainly by the Health and Human Services Agency (HHSA) South Region.
The community enjoys a wide variety of educational institutions, parks and open spaces, beaches, lakes, and mountain and canyon trails, athletics and recreational facilities,  and a diverse population.
The award winning Chula Vista Elementary School District is the largest Elementary School District in California, there are a number of community and private colleges.  Residents enjoy many parks, walking trails, and the community is very proud of the Little League team that has won the World Series.
Several hospitals, including a VA hospital, numerous community clinics, a cancer treatment center, and a military base are all part of the community.
A wide array of industries do business in the community including a working port, car dealerships, education, medical, government, and arts and entertainment venues.
Diverse: 1:4 National City and Chula Vista residents speaks Spanish only
Median Household income in National City: $39,517, in Chula Vista: $66,110
Median Household income in west Chula Vista: $43,309, in east Chula Vista $89,728
Ethnicity in the Community: Hispanic 61%, White 20%, Asian 12%, Black 4%
Geographically Unique: US-Mexico border to the south, City of San Diego to the north, Pacific Ocean to the west and mountains to the east
Large: Half million residents in the community, urban