In July of 2022, President Biden signed into law the CHIPS and Science Act of 2022, which also authorized "Community" becoming the seventh category of the Malcolm Baldrige National Quality Awards.  This bill authorizes American communities to apply for and receive presidential-level recognition for efforts to systematically improve community performance across all sectors and collectively achieve better community outcomes.  Communities now join American businesses and nonprofit organizations in applying continuous improvement practices to improve community outcomes related to health and wellness, educational attainment, economic vitality, and quality of life.
Read our Press Release about this exciting achievement!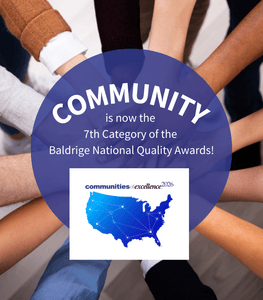 Background on this Program:  In 2017, Communities of Excellence 2026, in partnership with the Baldrige Performance Excellence Program, launched the Communities of Excellence Assessment and Recognition Program. 
In parallel with Baldrige Program's mission, the purpose of Communities of Excellence 2026 and the Assessment and Recognition Program is threefold:
To develop a nationally recognized standard of community performance excellence

To establish role models of that standard through the Recognition Program

To encourage continuous improvement through sharing of best practices and provision of feedback to communities on the performance excellence journey that will lead to better outcomes for the residents they serve.
"Our resolve to improve key outcomes has never been stronger, while acknowledging significant challenges remain to the health and wellbeing of many in our communities. Communities of Excellence 2026 provides a proven framework to enhance our ability to achieve improved outcomes. This systems approach broadens community partner support, is anchored in data and moves shared community concerns and efforts toward a common vision. It is an invaluable tool to improve performance of people's lives in our backyards and for our nation as a whole."
Nick Macchione, Director & Deputy Chief Administrative Officer, Health and Human Services, San Diego County, CA