Key questions for improving the performance of communities and the people who lead and live in them. 
Copies of the 2023-2024 Communities of Excellence Framework are available for purchase here!
About the Communities of Excellence Framework
The Communities of Excellence Framework is rooted in the belief that every person in America should have the opportunity to live their best life in communities that are thriving. That vision is hampered by the recognition that economic vitality, educational achievement, housing, and health status, among others, are inextricably interwoven, impacted by a variety of social conditions, and at risk from disasters, emergencies, and other disruptions. Addressing the challenges our communities face today and the challenges they will face in the future requires a high level of commitment among leaders across sectors and generations to take a systems approach to improving the conditions, outcomes, and resilience of their community. The Communities of Excellence Framework is designed to be used by those leaders for just that purpose.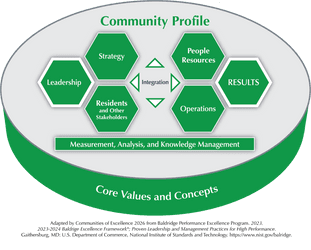 The framework is adapted from the Baldrige Excellence Framework, a non-prescriptive, systems framework that empowers organizations to reach their goals and improve results. Every two years this framework is revised based on expert input and leading edge practices.  We are very pleased to present this latest version, based on hundreds of hours of expert feedback including input by national DEIA experts and community practitioners.