Imagine a time when leaders within a community – official leaders (those elected or appointed to their formal positions) as well as the many informal community leaders – work together to set community vision; listen to community stakeholders to better understand community assets and needs; (re)allocate resources to address community issues or advance community initiatives; use community scorecards to monitor progress of those initiatives and the outcomes they intend to impact; and engage, mobilize, and align people resources – workers, volunteers, and citizenry – on the initiatives that will make a difference in a given community.  That's how high performing organizations succeed; we believe that's how high performing communities will succeed. 
View the contents of the Communities of Excellence Framework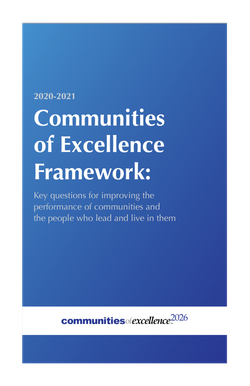 The Communities of Excellence Framework includes a set of key questions for improving the performance of communities and the people who lead and live in them.  Rather than prescribe how communities should structure their community leadership, shared initiatives or action plans, or what the mission, goals and measures should be, the framework helps you make those decisions as a community with input from all key sectors and all voices.