Alla (Al) Wazwaz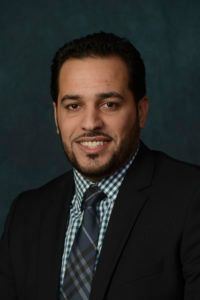 Graduate School attended: University of Minnesota, Twin Cities   
Graduate Degree or expected: Master of Healthcare Administration (MHA)
Undergraduate School attended: University of California, Davis
Undergraduate Degree or expected: Exercise Biology
Specific Area of Interest within Field: Clinical Operations, Quality Improvement, Process Improvement
Hometown: Fremont, CA
Read Al's April 29th, 2016 Blog and May 27th, 2016 Blog here
Why did you want to be a Kruse Communities of Excellence Scholar?
I wanted to be a Kruse Communities of Excellence Scholar because I truly believed in the idea of building healthier communities through an interdisciplinary collaboration of community leaders.  As future healthcare leaders, it is our duty to ensure that the patients we serve are not only receiving care in a hospital or outpatient clinic, but also having access to necessary community resources.  These resources should include factors that influence socioeconomic status, which is a huge determinant of an individual's health.  I believe that creating a framework that can help bridge health disparities is pivotal to population health management.
How do you think you will you contribute to your current or future community activities?
From my experiences with the Communities of Excellence, as well as my previous experiences with various organizations in underserved communities, I truly believe that in order to care for a population, we need to look beyond the health care these individuals receive.  It is understood that various socioeconomic and behavioral factors play a significant role in the health of an individual; whereas the care they receive is minimal.  With that being said, it is important to remember that healthcare leaders can truly lead the charge to effectively change a community or population for the greater good.  Anytime I speak to someone in the healthcare industry, I remind them of this very important concept.  We as Kruse Scholars and future healthcare leaders need to utilize the tools we have learned in a way that can make lasting change across communities in this country.
What are you most passionate about in your community?
I am most passionate about ensuring that someone from an underserved or underrepresented community will receive the same level of care as someone from an affluent community.  I also believe that we should bridge the socioeconomic gaps that are evident in almost every community in this country.  We must do a better job of supplying adequate resources to all members of a community, not just those who can afford to have them.
How do you plan to contribute to spreading "communities of excellence" across our country now and in the future?
I am a strong believer in healthcare leaders being at the forefront of improving the health of a community or population.  I have already started having conversations with many healthcare leaders in this country centered on the idea of communities of excellence.  It isn't always well received, however continuing to spread this idea may become a catalyst for change in the future.  As far as my plans for the future, I hope to be able to implement organizational initiatives that will focus on the health of a community.  That begins by involving my organization with other community resources.  This can be done by partnering with organizations that have established programs that can be beneficial to my patient population.  I also believe that healthcare leaders are put into a strategic position to influence positive change in other sectors of a community.  This was a concept my mentor instilled in me early in my career.  He believed, as healthcare leaders, we should sit on the boards of organizations in other sectors of the community to help advocate for change that will help the community excel.  That is something I plan to do as I continue on my journey as a healthcare leader.
FUN FACTS
What is/was your favorite class?
Operations was my favorite class. I enjoyed learning skills that I will be able to apply in an organizational setting.
What are your favorite hobbies by the season?
In California, we really don't need to change our hobbies with the seasons. I enjoy playing basketball, hiking, mountain biking, and scenic photography.
What is something unique about you?
I have never traveled outside of the U.S.
Favorite place you been to?     
Yosemite is by far one of my favorite places to visit. Whether it is a day-long hiking trip or week-long camping trip, I am always amazed by the beauty I can find there.
Where would you like to live?
I would like to live in Australia because it has some of the most beautiful natural environments on the planet.