Andrea Stoesz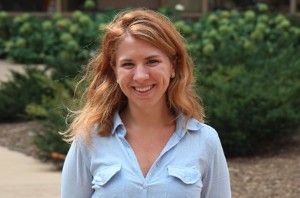 Graduate School attended: University of Minnesota School of Public Health
Graduate Degree or expected: MPH, 2017
Undergraduate School attended: New York University
Undergraduate Degree or expected: BA, Political Science, 2013
Specific Area of Interest within Field: Infectious Disease, Health Disparities, and Public Policy
Hometown: Minneapolis, MN
Read Andrea's June 17th, 2016 Blog, September 2nd, 2016 Blog, and January 23rd, 2017 Blog
Why did you want to be a Kruse Communities of Excellence Scholar?
I wanted to be a Kruse Communities of Excellence Scholar because I wanted to gain a better understanding of systems thinking and how it can be used to improve population health. Too often, I think scientists, policymakers, and leaders in industry and the community may be working toward the same goal, but are not working in alignment. I have learned that optimization of resources is possible on the community level, and can be used not only to improve health outcomes, but to also close gaps in health disparities.
How do you plan to contribute to spreading "communities of excellence" across our country now and in the future?
My ultimate career goal is to advise governments and local communities best leverage what little financial resources they have in order to invest in strong public health infrastructure that will help improve health for everyone, but particularly our most vulnerable. I plan on applying the Communities of Excellence framework when advising institutions on how best to use their resources.
FUN FACTS
What is/was your favorite class?
My favorite class is called "Emerging Infectious Disease and Public Policy".
What are your favorite hobbies by the season?
My favorite hobby in the spring, summer, fall, and parts of the winter is running outdoors. I've competed in several half marathons, and love mid-distance running.
What is something unique about you?
I love spicy food, the spicier the better.
Favorite place you been to?
I have spent significant time in Mexico, which is by far my favorite place to travel to. The food is amazing, and it's a beautiful country.
Where would you like to live?
I'd either like to stay in Minnesota, or move back to DC.