Janice Trang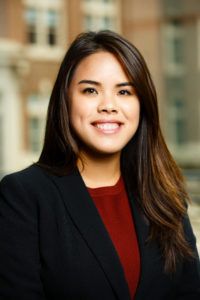 Graduate School attended:  University of Minnesota
Graduate Degree or expected:  Master of Healthcare Administration
Undergraduate School attended:  Grinnell College
Undergraduate Degree:  Biochemistry & Chinese
Hometown:  Rosemead, California
Why did you want to be a Kruse Communities of Excellence Scholar?
Prior to pursuing my MHA degree, I had the opportunity to collaborate with community leaders across healthcare, public health, education, and business sectors to promote opportunities, health, and well-being in multiple communities: Grinnell, Iowa, Washtenaw County, Michigan, and Anchorage, Alaska. Having experienced the positive impact these community collaboratives had on their respective communities, I am inspired to continue my passion of improving health and vitality through cross-sector collaborative leadership. I specifically wanted to be a Kruse Communities of Excellence Scholar because I thought that it would give me access to tools, perspectives, and inspiration to create more effective, sustainable impact within a community.
What have you learned about community collaboration and leadership through this scholarship?
As a Kruse Scholar, I had the opportunity to attend a workshop titled "The Principles of Excellence: Baldrige 101," taught by the Performance Excellence Network. From this workshop, I was exposed to a system approach to improving an organization's performance. This approach was intended to allow for all components of the organization to produce consistent processes, measures and actions. In addition, although this was a very standardized framework, it was neat to see that it can be applied to a variety of workplace settings because it works off of the core values (i.e. leadership, customers, workforce, strategy, etc) that every organization should be built off of. 
In what ways will you bring systems and quality thinking to your future career?
The Baldrige framework can be applied to a number of industries, including the health care industry. Like other industries, I think it is important to consider all these factors (leadership, customers, workforce, strategy, etc) to achieve excellent performance. Additionally, as a future health administrator, I hope to emphasize the societal responsibility hospitals and health systems have in improving the overall health and well-being of its community.
What is your vision for a "community of excellence"? 
A "community of excellence" would continuously identify, address and evaluate areas in which it can improve to enhance and sustain its opportunities, well-being and health within its community. A community of excellence would inspire and instill a sense of social responsibility amongst its community members to live intentionally and within community.
How do you think you will you contribute to your current or future community activities?
Similar to the communities I have lived in in the past, I hope to develop an intimate relationship with the community I am currently living in. In order to do so, I need to listen to my community members as they identify their community health needs and social care needs. And to create action, I must include the community members, as they are experts of their own community's health. Without their participation, it would be difficult to develop a clear understanding of the community's unique needs and form a framework to achieve the best results and outcomes for the community.
How do you plan to contribute to spreading "communities of excellence" across our country now and in the future?
As I do have the privilege to learn from many sources as possible now as a student and Kruse scholar, I hope to adopt many tools, perspectives, and inspiration from my peers and the professional community. Once I have acquired this knowledge, I hope to share it with those around me. In addition, I believe that the best way to inspire change and acquire change is to be the change. So I hope to be an example for my community members in terms of inflicting change within my own communities.
FUN FACTS
What is/was your favorite class?
Gender, Race, and Science (Taught by Professor Michael Gill at Grinnell College)
What are your favorite hobbies by the season?
Spring- Fall: Hiking, camping, rafting, outdoor running, gardening
Winter: Hygge
All seasons: acrylic painting, reading, cooking
What is something unique about you?
I started serving coffee at my parent's donut shop at age four.
Favorite place you been to?
Seaside Farm in Homer, Alaska
Where would you like to live?
Bellingham, Washington