Jesse Nelson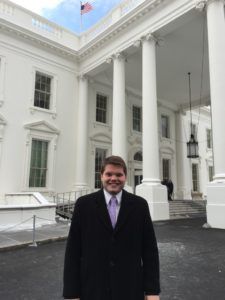 Undergraduate School attended: Augustana University
Undergraduate Degree or expected: B.A. Government/International Affairs and Philosophy
Specific Area of Interest within Field: I am deeply interested in the intersection of political philosophy and public policy, ethics, and presidential history.
Hometown: Milbank, South Dakota   
Read Jesse's September 9th, 2016 Blog Post here                                                                                        
Why did you want to be a Kruse Communities of Excellence Scholar? 
I want to be a Kruse Communities of Excellence Scholar because I want to actively engage in the future of this country, and of my community. As both a proud citizen and an engaged member of the community, I believe it is the duty of everyone to work together in consideration of the common good and the future.                                                    
What is your vision for a "community of excellence"? 
My vision for a community of excellence is similar to what I picture when I read about Aristotle's description of the ideal polis- albeit a more egalitarian one. Businesses, community government, schools, and clinics all working together to not only be the best they can be for their patrons, but also working with a mind to the common good. That means investment in community programs, support for community efforts, and the inclusion of those most often found at the edge. The community of excellence only excellent because its people and institutions strive for excellence.
How do you plan to contribute to spreading "communities of excellence" across our country now and in the future?
As I move on from Augustana, I am proud to take the Kruse experience with me. I hope to use the framework I learned as a Kruse scholar to help better the institutions I become a part of and to use it as a template for improvement. That includes decisions I make in my future jobs and organizations that I become involved in in my private life.
FUN FACTS
What is/was your favorite class?
My favorite class was Political Philosophy with Dr. Peter Schotten. It marked the beginning of my understanding of and affection for the works of Aristotle. 
What are your favorite hobbies by the season?
My favorite hobby is playing my Gibson SG. I can play the blues during any season!
Favorite place you been to?
My favorite place I have ever visited, besides Washington DC, is Edinburgh, Scotland. I loved the old streets, beautiful architecture, and friendly people. As home the Scottish Enlightenment, it is an old and beautiful city with an amazing history.
Where would you like to live?
I am currently working on moving to Washington DC following my graduation in May.