Jessica Schmitz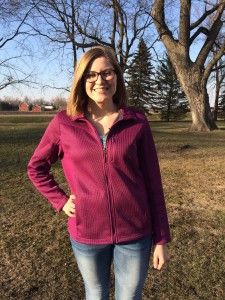 Undergraduate School attended: Augustana University
Undergraduate Degree or expected: Computer Science and Software Engineering, Computer Information Systems, and Business Administration with emphasis in Management Information Systems
Specific Area of Interest within Field: I enjoy acting as a liaison between the programming and business worlds, combining the critical thinking and creativity of computer science with the structure and managerial skills of business.
Hometown: Sleepy Eye, MN
Read Jessica's April 1st, 2016 Blog and May 6th, 2016 Blog here
 Why did you want to be a Kruse Communities of Excellence Scholar?
I wanted to be a Kruse Communities of Excellence Scholar so I could begin to recognize what qualities a "community of excellence" possesses as well as what kinds of questions to ask to help a community get to this level of performance and then sustain it for many years. I have already learned that the key is a systematic approach to collaboration.
In what ways will you bring systems and quality thinking to your future career?
In the fields of computer science and business, both systems and quality thinking are key to success. I hope to teach the lessons I've learned through the Communities of Excellence program to my co-workers to more efficiently and strategically write software for business applications.
How do you plan to contribute to spreading "communities of excellence" across our country now and in the future?
From what I have learned so far of the Baldrige framework and of communities of excellence, the most important piece of it all is to take the time to assess the organization or in this case, the community, and ask the important questions – begin a conversation. I plan on contributing and spreading "communities of excellence" across our country by actively participating in these discussions with community leaders and organizations. This framework is what communities and organizations already strive to be, but may not know how to go about it. I plan on helping others learn what questions to ask.
FUN FACTS
What is/was your favorite class?
I took a class called Advanced Data Structures for computer science and really enjoyed it because it is where I began to understand that software engineers do not just have to know how to write code, but they must also analyze and strategically choose which design methods they will use to best represent the data.
What are your favorite hobbies by the season?
In the summer I enjoy camping with my family, spending time outdoors biking and roasting marshmallows over the campfire. In the spring and summer I enjoy four-wheeling with my family through our woods and along the river. In the cold winter months, I love to curl up with some hot cocoa and a good book.
What is something unique about you?
I am so lucky to have a large family who loves to all get together and have a good time. I have over 100 first cousins and I treasure the many memories with them!
Favorite place you have been to?
I have been to Colorado a couple of times and am amazed by the beauty of the mountains. I loved hiking through different parks and touring the little mountain towns.
Where would you like to live?
I am grateful to have grown up in a small community with a great impact on its people and surrounding areas. I want my career to be a part of an atmosphere like this, so I hope to go back to Sleepy Eye or a small community in Southern Minnesota.