Kirsty Strain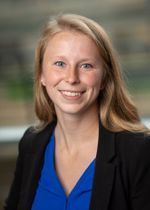 Graduate School attended: University of Minnesota - School of Public Health
Graduate Degree or expected: MHA
Undergraduate School attended: University of Wisconsin – River Falls
Undergraduate Degree: Bachelor of Science in Accounting and Business Administration - Management
Specific Area of Interest within Field: Population Health, Sustainable Innovation, Community Integration, Value-Based Payment & Care Models
Hometown: Rochester, MN
Why did you want to be a Kruse Communities of Excellence Scholar?
As more healthcare organizations are investing in ways to improve social determinants of health, I knew I wanted the opportunity to see how healthcare entities can further leverage cross-sector relationships to improve the health of the community. The Kruse scholarship is founded on building leaders through networking and learning structured frameworks, which presents a great opportunity to see how organizations are cultivating communities of excellence and the corresponding ripple effects.
In what ways will you bring systems and quality thinking to your future career? 
As someone who is interested in seeking the intersection of value between health plans and delivery enterprises, I found seen the importance of ensuring all stakeholders are engaged and involved in the decision-making process. While many might think that the key stakeholders are within the four walls of the organization, it takes a community to build a healthcare ecosystem that is able to successfully address root causes and improve the total health of the community. The Kruse scholarship has provided me with insight on what types of conversations are needed and how to cultivate these relationships to align objectives and goals.
How do you plan to contribute to spreading "communities of excellence" across our country now and in the future?
I have had great internship experiences with community organizations that have allowed me to see how challenging it can be to create mutually beneficial, cross-sector partnerships. However, I have also seen the excitement and the success that can come from two organizations working together to better their community. Being a Kruse scholar has only amplified my excitement to work with fellow community leaders to overcome barriers to health that are ingrained in how healthcare operates. I hope to carry the lessons I have learned in being a Kruse scholar into my future work to ensure that I hear all stakeholder voices, align a common goal, and problem-solve to achieve success.
FUN FACTS
What is/was your favorite class?
To my surprise, I am really enjoying my health information course! I have been able to better understand more of the hows and whys behind data and communication between systems.
What are your favorite hobbies by the season?
Winter: Movies & cooking
Spring: Reading outside
Summer: Hiking & camping
Fall: Volleyball
What is something unique about you?
I traveled to 19 counties in 6 months during my senior year of college!
Favorite place you been to?
Yellowstone, Wyoming
Where would you like to live?
I would live anywhere for a few years, but I would like to end up in the Midwest eventually