Kofi Gunu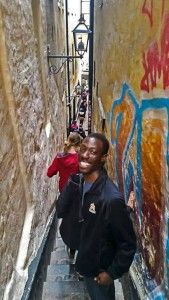 Undergraduate School attended: Augustana University
Undergraduate Degree or expected: B.A. Government/International Affairs and Economics
Specific Area of Interest within Field: My studies have focused on identity conflicts and the role of public private partnerships in eradicating poverty whether in Africa or on the Rosebud Reservation.
Hometown: Tamale, Ghana and Valley Springs, South Dakota
Read Kofi's August 5th, 2016 and December 5th, 2016 Blog Posts here
Why did you want to be a Kruse Communities of Excellence Scholar?
The Kruse Scholars program promised a unique opportunity to develop in depth the qualities of courage and vision, touchstones of the leadership I need to make my community the sort of place it ought to be. The Kruse Scholarship is not just financial aid; it is a chance to be part of a movement transforming how governments, businesses, and civil society unite to tackle critical and emerging problems.
In what ways will you bring systems and quality thinking to your future career?
I aspire to become the mayor of a midsize city someday. A recent internship I undertook at City Hall convinced me that more needs to be done to make rapidly growing and increasingly multicultural places like Sioux Falls more inclusive, vibrant, and successful. The collective impact approach offers the surest way to harness the energies of all stakeholders in a single-minded focus on excellence.
What are you most passionate about in your community?
As a recent transplant myself and someone who has come to call Sioux Falls home, it is a great point of pride for me that so many people from all over the country and the world are choosing to move to the area. But I recognize that diversity has its discontents, and change can be destabilizing. I am passionate about finding ways to leverage the mutually beneficial relationship between Augustana University and Sioux Falls to make the city more accepting of immigrants. I have dedicated myself to assisting organizations like Lutheran Social Services in their refugee resettlement and workforce development efforts. Newcomers are an asset to our community, and they deserve to have a say in how it is run.
How do you plan to contribute to spreading "communities of excellence" across our country now and in the future?
I believe the best way I can contribute to "communities of excellence" right now is to strive to get to know other Kruse Scholars better, not just those from my year level, and to think about and engage with collective impact and performance excellence. As the years go by and more individuals get added to our ranks, Kruse Scholars will form a cohort of leaders fanning out across the country and globe. Strong inter-generational connections will keep us focused on the communities of excellence vision. I applaud efforts like this website to create an online platform for scholars to meet and interact with one another. I hope to help leverage social media to sustain that connection. In the long term, I am personally committing myself to organizing a reunion on the 25th anniversary of the scholarship's inception. I hope to see you all there!
FUN FACTS
What is/was your favorite class?
A Civitas honors seminar called Reading Augustana led by Dr. Jeffrey Miller. The class inspired me to become a more consequential member of the communities that surround me — on campus, in the city, and beyond. That class helped me bridge the academic study and practical service gap with individual and group projects aimed at solving real challenges facing real people.
What are your favorite hobbies by the season?
Every summer I join my high school biology teacher to cultivate organic vegetables which we then sell at the local farmers market. In the offseason, I enjoy polishing my carpentry skills and helping out with repairs around the farm — my idea of relaxation.
What is something unique about you?
I was given the name Kofi because I am a Friday born. Most males born on Friday in my ethnic group in Ghana go by Kofi. Each day of the week has a name assigned to it by gender.
Favorite place you've been to?
I had the incredible good fortune of spending seven weeks of my 2015 summer studying in Norway as a Nobel Peace Prize Scholar. Norway is the most wondrously beautiful place I have ever been. The experience has also made me a broader and more interesting person.
Where would you like to live?
A lifetime living and working on farms has made it hard for me to imagine living anywhere else. I will like nothing better than to move into a place next to my host parents, on the gentle hills of Valley Springs, South Dakota.