Lauren St. George-Schreder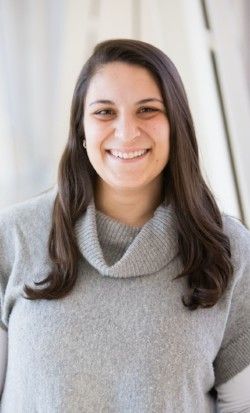 Graduate School attended: University of Minnesota-Twin Cities
Graduate Degree or expected: Master of Healthcare Administration
Undergraduate School attended: University of Wisconsin-Madison
Undergraduate Degree or expected: International Studies, minors: Global Health & Business
Specific Area of Interest within Field: Community/Public Health from a clinical viewpoint
Hometown: Bloomington, MN
Why did you want to be a Kruse Communities of Excellence Scholar?
I wanted to be a Kruse Scholar because it seemed like an excellent opportunity to connect with others who share similar passions as myself, and it is a great way to learn how to apply my MHA degree to improve communities as a whole. I strongly believe that health needs to be tackled at a population level, as well as a clinical one, to allow people to live healthy lifestyles, and the Kruse scholars seemed to share this goal. I was also drawn to the focus on systems based interventions, because the only way to create a healthy community is through a shared goal and collaboration throughout the entire community.  This idea was the main reason I wanted to be a Kruse Scholar, since it felt like I had a chance to be a part of something meaningful and bigger than myself with the Communities of Excellence.
What are you most passionate about in your community?
I am passionate about having access to high-quality and affordable healthcare options for all people. This passion has really been reinforced during my experiences with various community health clinics in urban and rural settings, when I regularly saw patients who would postpone or refuse treatments because of the expenses that it would incur for them.  I am passionate about health as a human right, and I strongly believe that we need to work as a community to help people be healthy. Health needs to be a community-wide system to prevent diseases, not just treat them.
How do you plan to contribute to spreading "communities of excellence" across our country now and in the future?
I plan to contribute to spreading "communities of excellence" in my career by working in a community health clinic setting, and I am hoping to use the influence to build and strengthen community partnerships. Communities often look to clinics and health systems as the point organizations for health matters, so they commonly need to be the ones to lead the charge towards a healthy community. I am planning to capitalize on this by pushing myself and my organization to engage in community building efforts and to be a leader in the community in strengthening partnerships to become a community of excellence. We as healthcare leaders are going to be looked to for leadership when building a healthy community, so we need to know how to spread the ideas of communities of excellence throughout our communities and be an example for others. I hope that, when other communities see the success of our communities of excellence, they will engage as well. Little by little, by setting examples and teaching others how to build the capacities to be communities of excellence, we can develop communities of excellence across the country.
FUN FACTS
What is/was your favorite class?
● The History of African American Music
What are your favorite hobbies by the season?
● Winter - Knitting
● Spring - Home-brewing Beer
● Summer - Camping
● Fall - Hiking/Walking
What is something unique about you?
● I love teaching, and when I have free time I teach at a Montessori School that my mother owns
Favorite place you been to?
● Peru, hands down! I loved Cusco and Machu Picchu, but Lima will always hold a piece of my heart
Where would you like to live?
● Short term - possibly New York City or somewhere warm by the ocean
● Long term - Minnesota, possibly up north. I don't think I could ask for a better home than here