Natasha Wright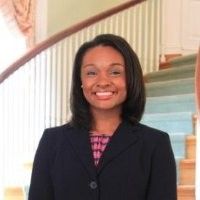 Graduate School attended: University of Minnesota School of Public Health; Wake Forest University School of Business
Graduate Degree: Master of Public Health; Master of Arts in Management
Undergraduate School attended: Denison University
Undergraduate Degree: Bachelor of Arts in Communication and Environmental Studies
Specific Area of Interest within Field: Public Health Policy and Administration
Hometown: Aurora, Colorado
Read COE 2026's May 17th, 2016 Interview with Natasha here
Why did you want to be a Kruse Communities of Excellence Scholar?
I wanted to be a Kruse Scholar because I believe in the effectiveness and sustainability of cross-sector collaboration. Everything is so interconnected that it only makes sense for key sectors in the community to work together to achieve the highest quality of life for their people. The model of sectors working in isolation is outdated and does not produce results. As Albert Einstein said, insanity is "doing the same thing over and over and expecting different results". The Communities of Excellence Initiative provides a different path forward to produce superior outcomes.
In what ways will you bring systems and quality thinking to your future career?
While I'm still unsure of what I want to do for the remainder of my career, I currently work in federal government where it would be very beneficial to apply systems and quality thinking. The federal government and its partners could accomplish so much by incorporating the Baldrige Excellence Framework and get rid of several inefficiencies. One of the biggest complaints about government is the time that it takes to actually accomplish certain outcomes. By adapting to the Baldrige Framework, the federal government can achieve better results, faster, and at a lower cost to taxpayers. One way that I could bring systems and quality thinking into government is by providing my office's Executive Officer with an overview of Baldrige, explain its benefits, and encourage him to buy the package for training. I could, then, work with my office leadership, and later, my agency's senior leadership to conduct an organizational profile and identify areas for improvement. Even if I am not able to convince my agency that Baldrige is the right fit, I can certainly always encourage collaboration with current and new partners and sectors as well as champion for new approaches to solving old problems.
What are you most passionate about in your community?
It is essential to give people a means by which to provide for themselves and be contributing members of society. I am passionate about helping people who are unemployed or underemployed to secure employment or better employment.  Currently, I'm working with an organization that gives such individuals the tools to find jobs. I have the chance to share the professionalism that I learned in my higher education programs about how to dress, how to write resumes, cover letters, and thank you letters; how to conduct information interviews, etc. The trainees that I work with are highly motivated and want to learn. It is amazing to see their confidence build and how happy they are to be equipped with skills that many of us take for granted. Before writing people off as lazy or incapable, give them a helping hand. More often than not, you will be humbled and amazed.
How do you plan to contribute to spreading "communities of excellence" across our country now and in the future?
I talk about the Communities of Excellence 2026 initiative to almost anyone who would listen, but I want to play a more active role in disseminating it across the country.  I want to learn as much as possible about the experience implementing the communities of excellence framework in the three current pilot communities to understand what works best and how the framework can be improved and adapted to different communities. Having this understanding, along with Baldrige training would allow me to actively participate in spreading the performance excellence approach to additional communities seeking to improve the health and well-being of their people. Perhaps one day, the Communities of Excellence 2026 team can call on me to help with skill-building and providing resources to communities that are ready to apply the framework.
FUN FACTS
What was your favorite class?
My favorite classes were always in acting. I starred in several plays in high school and undergrad, but wanted job security and so I never tried to make a career out of it.
What are your favorite hobbies by the season?
Spring: Cherry Blossom Festival; Biking around the National Mall; Hiking
Summer: Going to the Beach; Brunch; Recreational Sports
Fall: Going to Wineries; Road Trips; Salsa Dancing
Winter: Reading; Chess; Cooking; Visiting family for the holidays
What is something unique about you?
My favorite candy in the world is Mr. Goodbar.
Favorite place you been to?
Mount Uluru (Ayers Rock), Australia
Where would you like to live?
Anywhere tropical; my hometown, or Minneapolis, MN