Ruth Gebremedhin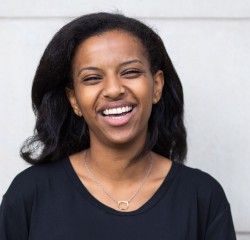 Graduate School attended: University of Minnesota - School of Public Health
Graduate Degree or expected: MPH
Undergraduate School attended: University of Wisconsin - Madison
Undergraduate Degree or expected: Bachelor of Science in Nutritional Sciences, Global Health
Specific Area of Interest within Field: Health Equity, Quality and Performance Improvement, Strategic Planning
Hometown: Milwaukee, Wisconsin
Why did you want to be a Kruse Communities of Excellence Scholar?
The Kruse Scholar community provided the perfect complement to my public health degree. I knew that I wanted opportunities outside of the classroom to explore how health care systems can partner with community based organizations to find the best ways to address disparities in health. The Kruse scholarship gives me a structured way to learn from current leaders in the field, something that is invaluable.
In what ways will you bring systems and quality thinking to your future career?  
I am someone who wants to simultaneously bring a culture of equity and quality in the future communities that I serve. The Kruse scholarship has not only reinforced these personal goals of mine, but it has shown me some of the initial challenges in building cultures of equity and quality. Building these strong community partnerships takes a certain type of sacrifice from each party, and it also takes people who are able to recognize the needs of each participating party.
How do you plan to contribute to spreading "communities of excellence" across our country now and in the future?
As someone who is integrating the concept of Communities of Excellence into my professional education, I am learning how complex it is to create cross-sector partnerships. As a student, I hope to learn ways in which I can negotiate and problem solve while keeping everyone's interests in mind. These will be crucial skills that I will be using as soon as I graduate, most likely regarding smaller matters. Growing in these skills will prepare me to lead conversations in pursuit of partnerships with other leaders within the communities that I'll be serving.
FUN FACTS
What is/was your favorite class?
I took a social justice and health equity course in undergrad that I really enjoyed. It was my first structured class regarding issues of equity. My final project allowed me to expose the power, privilege, and opportunity within synchronized figure skating, a sport that I was involved in, which I then related to certain issues within health care.
What are your favorite hobbies by the season?
Winter: figure skating!
Spring: outdoor markets
Summer: eating ice cream at night (it's still warm out!)
Fall: running/hiking (the temperature is great).
What is something unique about you?
I was a "band kid" growing up - I played the alto saxophone in my high school's marching, jazz, and  symphonic band.
Favorite place you been to?
Annecy, France
Where would you like to live?
I'd love to move back to my hometown, Milwaukee, but I'm also a fan of the Pacific Northwest.