Sarah Perez-Sanz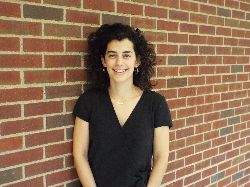 Graduate School attended: University of Minnesota, School of Public Health
Graduate Degree or expected: MPH Public Health Administration and Policy
Undergraduate School attended: Colorado College, Class of 2013
Undergraduate Degree or expected: B.A. Biology
Specific Area of Interest within Field: health equity, community health, program evaluation, public health communication and media
Hometown: Frankfort, MI
Why did you want to be a Kruse Communities of Excellence Scholar?
I wanted to be a Kruse Communities of Excellence Scholar because of the learning, engagement, and career development opportunities. These are an essential complement to my graduate education and will prepare me to confidently address the nuances and challenges I will face as a public health professional. This opportunity offers me a tangible way to anchor a systems-approach and collaborative community leadership at the center of my public health career.
What are you most passionate about in your community?
I am most passionate about harnessing the capacity, resources, and leadership already within the community. I am interested in connecting with existing community leaders to elevate their vision and ideas to improve health. I want to use my skills and tools, including Baldrige, to help drive meaningful change.
How do you plan to contribute to spreading "communities of excellence" across our country now and in the future?
The "communities of excellence" mindset offers me a deeper understanding of how systems-change and quality improvement can influence the creation and development of programs, policies, and projects that best serve the community. I value of cross-sector partnerships, and intend to create them in my work. In each team and community I work with, I will bring this concept and tool into my work.
FUN FACTS
What is/was your favorite class?
So far in my program, my favorite classes have been Principles of Health Policy and Public Health Ethics.
What are your favorite hobbies by the season? 
My goal is always to be outside as much as possible! Mostly, I take walks or go hiking. I got back into climbing indoors this winter when snow and slush made walking frustrating. I went to a pop-up sauna a few times this winter, which was very relaxing! I also like to cook, read, and practice yoga. I love a good farmers' market trip!
What is something unique about you?
I still send handwritten letters to friends and family!
Favorite place you have been to?
It's hard to pick just one...I really loved canoeing down the Green River in Utah with some friends!
Where would you like to live?
I moved to Minneapolis for graduate school, and really like it so far! After living in the Southwest for a while, it is nice to be close to my parents, who live in Michigan.