Shelby Crespi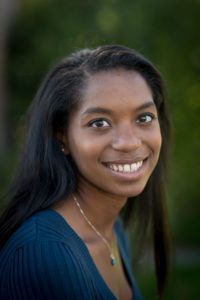 Graduate School attended:  University of Minnesota
Graduate Degree or expected:  Master of Public Health in Epidemiology
Undergraduate School attended:  Santa Clara University
Undergraduate Degree:  Bachelor of Science in Public Health Science
Specific Area of Interest within Field:  Health equity, reproductive health, global health
Hometown:  San Jose, California
Read Shelby's April 7th, 2017 and May 19th, 2017 blog here
Why did you want to be a Kruse Communities of Excellence Scholar?
The Kruse Communities of Excellence Scholarship offers the unique opportunity to promote community-based and community-driven initiatives in an inclusive and innovative way by employing the Baldrige Framework. It leverages the strengths of various fields and sectors to reach toward health goals that can be sustained in the community.
What is your vision for a "community of excellence"? 
My vision for a community of excellence is one that utilizes its own members as leaders and change agents. By building positive social networks and creating a platform for community leaders, we can change the trajectory of a community in terms of health, the economy, and social spaces.
What are you most passionate about in your community?
My passions lie in working toward sustainable and community-owned solutions to health disparities by leveraging underutilized and underestimated resources which, in many ways, is often women. By elevating women in an array of settings, we are able to create innovative and low cost change while also reorienting the way we think of social and gender dynamics.
How do you plan to contribute to spreading "communities of excellence" across our country now and in the future?
Now, I can learn as much as I can about successful strategies, such as the Baldrige Framework, for implementing programs that promote health and health equity. In the future, I hope to carry what I am learning now into a global context to support the promotion and agency of women from all different types of backgrounds. Empowering women empower communities, and that's something I want to contribute to.
FUN FACTS
What is/was your favorite class?
I took History of Plagues, Epidemics, and Infections as an undergrad and thought it was fascinating!
What are your favorite hobbies by the season?
Spring: Hiking
Summer: Spending time on the beach--anything in the sun really (with appropriate sun protection of course!)
Fall: Trying out all my new recipes
Winter: Cross stitching
What is something unique about you?
I love Wallace and Gromit movies!
Favorite place you been to?
Guarjila, El Salvador. It's where I first discovered my interest in women's health.
Where would you like to live?
I'd love to go back to El Salvador and live there for a while. I'd love to give back to the place that has played such a large role in developing my dreams and given to me in such incredible ways.