Spencer Cahoon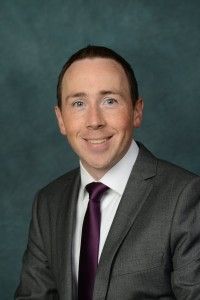 Graduate School attended:  University of Minnesota School of Public Health
Graduate Degree or expected:  Master of Healthcare Administration
Undergraduate School attended:  Brigham Young University
Undergraduate Degree or expected:  Nursing
Specific Area of Interest within Field: Population Health/Geriatric Care
Hometown:  Redmond, WA
Read Spencer's July 1st, 2016 blog, November 14th, 2016 blog, January 13th, 2017 blog and June 19th, 2017 blog here
Why did you want to be a Kruse Communities of Excellence Scholar?
When I met first met Lowell and Leslie Kruse, I sensed in them an optimism, patriotism, kindness, and wisdom that sparked my interest in their cause.  I knew I wanted to have a personal, mentored relationship with them.  Additionally, and perhaps stemming from the holistic care approach that I learned in nursing school, I have a strong interest in population health and looking at how we improve health outcomes through community partnership.
What is your vision for a "community of excellence"?
More than 80% of health outcomes are determined by a person's health behaviors, social and economic factors, and physical environment, while only 20% are determined by clinical care/access.  A "community of excellence" will focus its financial investment, time and energy on elevating the 80%.  It will be a community that values self-determination, equity, and evidence-based initiatives.  A "community of excellence" will not only attract the best and brightest in our nation to its specific location, but it will collaborate and educate other communities so as to improve the nation as a whole.
How do you plan to contribute to spreading "communities of excellence" across our country now and in the future?
While I am in graduate school, I want to learn as much as I possibly can about the guiding principles of "communities of excellence."  This is being accomplished by collaborating with other Kruse Scholars, attending Performance Excellence Network workshops and conferences, and taking advantage of a mentored relationship with Lowell Kruse.  After graduation, I will teach others what I have learned, apply the "community of excellence" principles to the area in which I live, and welcome other opportunities to promote this cause.
FUN FACTS
What is/was your favorite class? 
Advanced Public Health.  I spent a month in Chinle, AZ on the Navajo Nation learning about public health as it relates to the American Indian people.  Their culture and traditions, as well as the surrounding sandstone geography, were inspiring to me.
What are your favorite hobbies by the season?
During every season my wife and I love to be in the great outdoors, spending time camping, skiing, biking, and river rafting.  When I have free time and I'm not outside, you'll find me cooking up something delicious.
What is something unique about you? 
I am a cellist, and I spent the last couple of years before graduate school volunteering my cello playing for end-of-life hospice patients and their families.
Favorite place you been to? 
The majestic Yosemite National Park in California.  If heaven can be found on earth, its Yosemite.
Where would you like to live? 
Somewhere west of the Mississippi where there are mountains, perhaps Colorado or the Northwest.