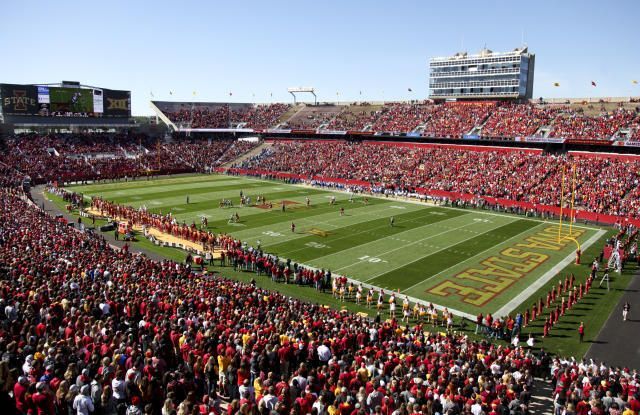 Community Definition and Identity
Ames is an urban community located in central Iowa (Story County), approximately 30 miles north of the state capital of Des Moines (Figure P.1-1). It is the home of Iowa State University (ISU), one of the country's first land grant universities. Ames has a total population of 66,258 (2019), with Iowa State University (ISU) students making up approximately 36,000 of the population. Incorporated in 1869, the city was named in honor of Oakes Ames, a congressman from Massachusetts who had railroad interests. The name was proposed by industrialist and railroad magnate, John Blair, a friend and colleague of Mr. Ames and a co-founder of the city of Ames.
The terrain is mainly flat to slightly rolling and agricultural. The climate is typically continental with strong seasonal variations. Summers are warm and humid with frequent showers and thunderstorms, some heavy. Winter brings mostly cold, dry air from the north with periods of precipitation, mainly snow. Below zero temperatures, strong winds and wind chills occur occasionally. Fall is dry and pleasant; the first freeze is typically early October and the last early May.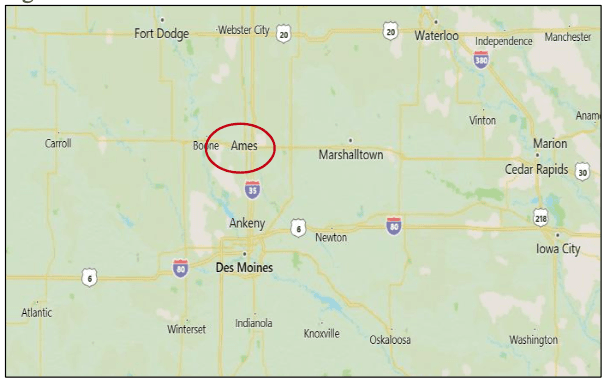 Ames has experienced growth in its population according to the US Census Bureau (Figure P.1-2) and compares favorably to that of neighboring communities south (Des Moines) north (Fort Dodge), and east (Marshalltown). Ames also compares itself to in-state university town Iowa City, home of the University of Iowa, and land grant university town Fort Collins.
Ames is best known as the home of ISU, a leading research university with agriculture, business, design, engineering, human sciences, liberal arts, and veterinary medicine colleges. Additionally, Ames is home to the United States Department of Agriculture (USDA), Agricultural Research Service's National Animal Disease Center (NADC), the largest federal animal disease center in the US. Ames is also home to the USDA's Animal and Plant Health Inspection Service, which includes the National Veterinary Services Laboratory and the Center for Veterinary Biologics. The U.S. Department of Energy's Ames Laboratory is located on the Iowa State campus. ISU, federal research facilities, and other industry help make Ames a very viable and economically stable community. Ames is also the headquarters for the Iowa Department of Transportation. Other world class companies located in Ames include Deere & Co, Vermeer, Merck Animal Health, 3M, Barilla, Boehringer Ingelheim, Hach, Danfoss, and Syngenta.
Key Challenges and Advantages
| Advantages | Challenges |
| --- | --- |
| High quality education system | Access to affordable housing |
| High quality healthcare | Access to healthcare |
| Home of land grand university | Access to healthy foods |
| | Attracting, recruiting, and retaining workforce |
| | Low unemployment rate |