Ames, Iowa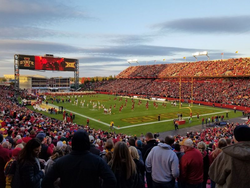 Ames is an urban community located in central Iowa, approximately 30 miles north of the state capital of Des Moines. Incorporated in 1869, the city was named in honor of Oakes Ames, a congressman from Massachusetts with railroad interests. The name was proposed by industrialist and railroad magnate, John I. Blair, a friend and colleague of Mr. Ames and a co- founder of the city of Ames.
Ames is best known as the home of Iowa State University (ISU), a leading research university with agriculture, business, design, engineering, human sciences, liberal arts, and veterinary medicine colleges. Ames has a total population of 66,258 (2019), with Iowa State University students making up approximately half of the population.
Ames is home to the United States Department of Agriculture (USDA) Agricultural Research Service's National Animal Disease Center (NADC), the largest federal animal disease center in the US. Ames is also home to the USDA's Animal and Plant Health Inspection Service, which includes the National Veterinary Services Laboratory and the Center for Veterinary Biologics. The U.S. Department of Energy's Ames Laboratory is located on the Iowa State campus.
Ames is the headquarters for the Iowa Department of Transportation. Iowa State, federal research facilities, and other industry help make Ames a very viable and economically stable community. Other world class companies located in Ames include Deere & Co, Vermeer, Merck Animal Health, 3M, Barilla, BASF, Boehringer Ingelheim, Hach, Danfoss, and Syngenta.
Ames is a city offering top-quality education from kindergarten to advanced degrees. The community boasts three rebuilt and two newly remodeled elementary schools and a state-of- the-art middle school. A new high school is under construction and slated to open in August 2022. Ames High School was rated as the number one public school in Iowa (U.S. News and World Reports). The school district prides itself on putting students first by providing leadership, systems and resources to empower communication that advances learning and teaching and promotes the value of the education provided.
As the medical hub for multiple counties, health care in Ames is accessible and advanced with medical professionals offering state-of-the-art medical intervention close to home. McFarland Clinic is Iowa's largest physician-owned multi-specialty clinic with a network of more than 200 healthcare providers serving residents in 12 communities. Mary Greeley Medical Center, a 2019 Malcolm Baldrige National Quality Award Recipient, is a 220-bed acute care hospital offering comprehensive inpatient, outpatient and community based services provided by more than 1,400 employees. Primary Health Care, a federally qualified health care center, ensures that the underinsured and uninsured have access to quality health services.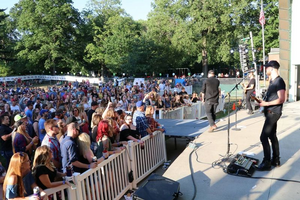 Ames offers cultural, recreational, educational, business, and entertainment amenities more common in bigger metros. The city offers four seasons of recreational activities through more than 36 parks, 55 miles of bike trails, golf courses, an aquatic center and more. University facilities, including CY Stephens Auditorium, attract performers from a variety of musical genres, as well as Broadway touring productions. An eclectic and free-to-the-public university lectures program brings some of the world's most significant leaders, thinkers and creators to Ames.
Ames routinely earns national recognition for its favorable economy, business climate, cost of living and sense of community. It has been consistently ranked as a top place to retire in America, a top college town, and among the healthiest communities in the country. In September 2020, Ames ranked 6th on the Business Insider's list of the 30 best American cities to live in after the pandemic. Also in 2020, Ames was named a top 10 city for working parents (SmartAsset). In 2019, the city was named a best place for millennials to move (Reviews.org) and a best small city for business (Chamber of Commerce). In 2018, Ames was named the best college town in America (27/7 Wall St.), a best city for working parents (SmartAsset), and a top 5 small metro area for retirees to age successfully (Investopedia).
The honors simply recognize what so many Ames residents have known for years: This is a vibrant and innovative university community with a strong economy, quality health care, excellent schools, terrific amenities and fantastic people.