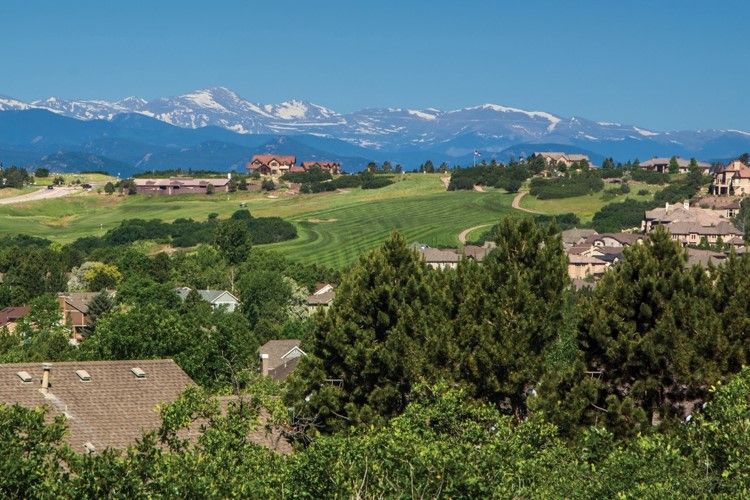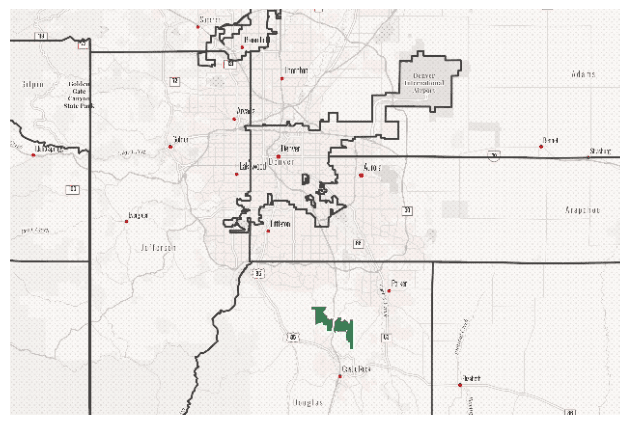 Community Definition and Identity
The City of Castle Pines formally incorporated in 2008 and is one of Colorado's youngest municipalities. The community encompasses a total of nine (9) square miles, with approximately half of the city limits annexed in 2009. Interstate-25 (I-25) is a physical boundary, dividing the city in half, as well as a cultural boundary. The recently annexed east part of the city is undergoing major residential and commercial development, while the west side is largely residential with little commercial activity, and relies on infrastructure originally built in the 1980s.
Compared to surrounding communities in the south Denver metro area, Castle Pines' current population is relatively small at around 12,000. There are four other municipalities and multiple Census Designated Places (CDP) in Douglas County whose populations range from ~14,000 (Lone Tree) to ~62,000 (Castle Rock). The growth that Castle Pines is experiencing is different than large urban centers, such as Denver and Colorado Springs, but there will be a large increase in population as the city doubles – if not triples – in size. This population increase is due to 5,000 new units in developments on the land annexed in 2009. At full buildout, Castle Pines is expected to have approximately 30,000 residents.
On a national scale, it is difficult to determine similar municipalities since Castle Pines is in a unique place concerning the nature and pace of its growth. This research to identify peer communities is a high priority for the City as a governing body, but for our community excellence group as well.
Castle Pines's identity is primarily a bedroom community to Denver. The draw of the metropolitan area is evident in how many Castle Pines residents commute to and from the city for work and entertainment. The proximity of the Rocky Mountains also prompts residents to drive west for a variety of recreation opportunities such as trails and ski resorts. This identity is shifting as more residents move to the city and advocate for amenities and services to compliment the residential base.
One of the major challenges and opportunities for Castle Pines is there is no city center, thriving business district, sense of place, or other element that clearly demonstrates the brand of Castle Pines. Some elements of the existing community identity are residents' above-average income and education levels, as well as the aesthetics and design of neighborhoods. Castle Pines is also very family-oriented and appeals to this demographic more than any other, due to the highly-ranked elementary schools in the community, low rate of crime, and ample outdoor recreation opportunities.
Key Challenges and Advantages
| Advantages | Challenges |
| --- | --- |
| A strategic advantage that Castle Pines is experiencing also relates to the new development occurring in the community. As the Denver metro region continues to see immense growth, many people are searching for communities further into suburban areas such as Castle Pines to build lives. Our close proximity to Colorado's capitol is appealing because people can still access the amenities of a large city, but also enjoy the calmer lifestyle of the suburbs where they live permanently. | One of the greatest challenges that Castle Pines is facing is the need for a united community. I-25 bifurcates the city neatly in half, so there already exists a physical east-side versus west-side divide. We want to avoid this division as much as possible by framing the community as one whole instead of two halves, so that residents feel they belong to the whole community instead of one part of it. The main challenge that the current, legacy side of the city faces is the lack of new amenities such as roads and commercial development that will be brand-new on the east side of the city once fully developed. It will be imperative for us as a community excellence group to encourage and brand the entire community as Castle Pines with consistent physical cues such as signage, but also more invisible, cultural cues to avoid division of identity. |