Central Minnesota
Be Part of Something GREATER
GREATER Living, Community, Education, Business, Health Care, Employers
Three towns in central Minnesota, first known as Upper, Middle, and Lower towns, were united as the city of St. Cloud in 1856. Quickly, St. Cloud became a hub for trade and processing for the surrounding agricultural area. With the arrival of the railroad and 1868 founding of the first granite quarry, St. Cloud attracted many new settlers and brought more economic progress. The addition of transportation and natural resources by the year 1900 helped maintain St. Cloud's status as one of the largest cities in Minnesota. Neighborhoods developed with many styles and sizes of houses, and today, St. Cloud is home to nearly 6,000 historic structures that were either built in 1955 or earlier.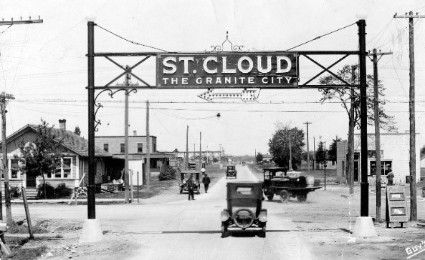 The St. Cloud Area, just 70 miles from the Minneapolis-St. Paul/Twin Cities area and set along the mighty Mississippi River, lies in three different counties; Stearns, Sherburne, and Benton. With a regional population 194,418 people and city population of 67,056 people, St. Cloud Area is the largest population center in central Minnesota and the 8th largest city in Minnesota state. In St. Cloud, you get the best of both worlds in a more urban city area surrounded by very rural Midwestern land. Stearns county has 62 artists and art-related businesses per 10,000 residents compared to the national average of 43.6 artists. Combining this love of the arts with the Minnesotan love of the outdoors, we have the Summertime by George! concert series on Lake George in the heart of the city of St. Cloud drawing crowds of up to 10,000+ people of all ages for a free weekly concert, 60+ food vendors and fun kids' activities for families. Additional keys sites and landmarks include 20+ miles of bike and walking trails, 1,500+ acres of green space and parks, including Munsinger Gardens and Riverside Park, enjoying a professional minor league baseball game at the St. Cloud Rox stadium in the summer or a St. Cloud State Huskies hockey game at the Herb Brooks National Hockey Center in the winter, playing a round of golf on one of four golf courses, shopping at the Crossroads Shopping Center, or spending time with family and friends at the new $25 million St. Cloud Community Aquatics Center with countless activity spaces and opportunities all operated by the St. Cloud YMCA.

St. Cloud is a young and vibrant community with a median household income of $45,223, city median age of 29.1 compared to Minnesota state's median age of 37.7 and was named #7 of 500 cities on the fastest growing U.S. cities list on NerdWallet.com. Ninety-five percent of the community in the St. Cloud Area has obtained their high school degree or higher. ISD#742 is the 15th largest public-school district in Minnesota with enrollment of 10,139, and the St. Cloud Area is also home to several higher education institutions including St. Cloud State University, St. Cloud Technical and Community College, College of St. Benedict's/St. John's University and more with total enrollment currently over 25,000. With such strong depths in education and development, it is no surprise that St. Cloud has been named #28 of 181 MSA's Best City of Young Entrepreneurs by NerdWallet.com and #24 of 184 U.S. cities Best Place for Business & Careers by Forbes.com. Major businesses in the St. Cloud Area include CentraCare Health System, the State of Minnesota (including St. Cloud State University and St Cloud Technical and Community College), St. Cloud VA Healthcare System, ISD #742, Electrolux Home Products, Capital One, Coborn's Inc., and more, spanning the following MSA Industries – Education & Health Services (27%), Trade Transportation and Utilities (21%), Manufacturing (15%), Leisure and Hospitality (9%), Professional and Businesses Services (8%), Construction (6%), Financial Activities (5%), Public Administration (3%), Information (2%), Natural Resources and Mining (1%), and Other services (3%).