Community Definition and Identity
The State of Delaware, 2,490 square miles of land in the Mid-Atlantic region, is the second smallest state. Delaware's population density is the 6th highest in the U.S. Several major cities are a short drive or Amtrak ride away including Philadelphia PA, Washington DC, Baltimore MD and New York City (Figure 1). The population of Delaware is just under 1 million. Delaware has three counties, north to south. Wilmington to the north in New Castle County is a small urban center. Dover, the capital, is located in the center and is a more suburban area in Kent County. Kent County is home to a large population of Amish and the Dover Air Force Base, the Department of Defense's largest aerial port and mortuary facility. Sussex County is the largest county east of the Mississippi, with rural chicken houses to the west and tourist destination beaches on the east coast.
Population: 989,948 and the 13th fastest growing state at a rate of 10.2%, outpacing its Mid-Atlantic and Northeast neighbors, with Sussex County gaining the most population in the 2020 census.
Delaware's population demographics are 68.75% white, 22.11% Black or African American, 3.87% Asian, 2.75% two or more races, 1.9% Other races, and 0.36% Native American. Delaware ranks as one of the top ten states when it comes to the proportion of African American residents compared to the total population.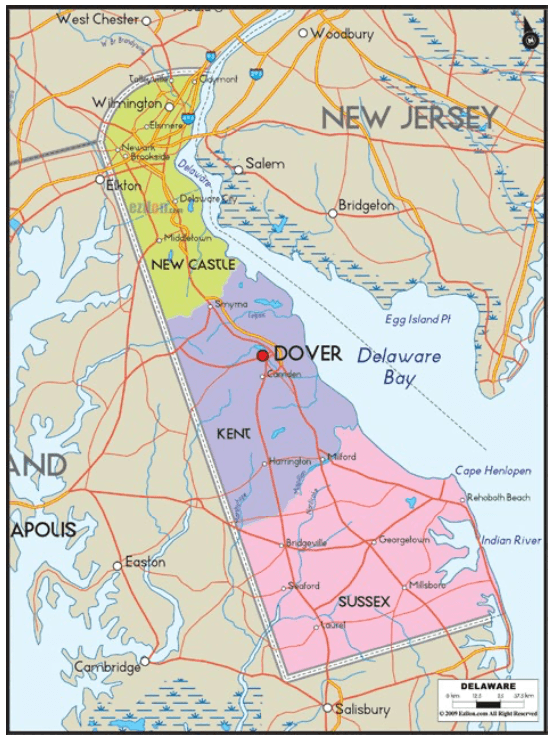 Delaware is known as the First State; we love being first. Delaware was the first state to ratify the Constitution of the United States. Delaware has historically been known for chemicals, cars, corporations, chickens, and credit cards, and we are a nationwide leader in fintech. We have the third fastest internet speed in the nation. Sixty-eight percent of Fortune 500 companies are incorporated in Delaware. We are known as the "Home of Tax Free Shopping!" With low property taxes (7th lowest in the nation), Delaware leads the nation as a top place to retire.
In 2019, Delaware's poverty rate was 11.3% compared to the national rate of 10.5%.
Historically Delaware's state services were supported by state corporate taxes, and Delaware continues to offer most basic services at the state level to keep cost low. We are known for our recreation and tourism destinations such as our Atlantic Beaches. Rehoboth is known as the nation's Summer Capital. We have a high number of private schools, and a mix of public and charter schools. Although Delaware ranks third in the nation for internet speed, there are still spots with no access. We have a high number of nonprofits in Delaware (2,000 – 3,000), many of which partner with Delaware Libraries and various State agencies to provide services to our residents.
We are small, and the culture values relationships. We know each other, the lore is one degree (or less) of separation. We know our public officials, including the 46th President Joe Biden. Due to the change in our economy with the loss of car manufacturing and downsizing of chemical and credit card companies our Governor's priority is "Strengthening DE's Economy" with an emphasis on improving grade level reading and early childhood literacy.
By capitalizing on our small size, the love of being first, and interconnections, our COE group is committed to tackling the challenge of improving literacy in Delaware. Literacy is defined as an individual's ability to read, write, and speak in English, compute, and solve problems, at levels of proficiency necessary to function on the job, within the family, and in society. A recent study shows that 1 in 5 adults in Delaware are reading at or below a 3rd grade level, and we rank 34th in adult literacy proficiency. Roughly 46% of low literacy adults cannot read and follow medication instructions. This means that many adults in Delaware who are unemployed or underemployed due to low literacy skills do not have a taxable income; do not have the income to buy homes, cars, and other essentials; and rely on social safety nets, which influence government-spending needs.
Key Challenges and Advantages
| Advantages | Challenges |
| --- | --- |
| 33 public libraries: proximity | Siloed/unknown fragmentation of data - Partners and Owned Participants |
| Existing connections: foundation | Adult literacy: recognizing as an issue |
| Communication strategy | Broad lifelong literacy effort |
| Strong foundation | Poverty |
| Large literacy resource footprint | Awareness, education, engagement- connectivity; purposeful collaboration with partners & libraries |
| Willingness around early childhood | Flooded with initiatives |
| Strong digital, workforce, economic mobility | Access to real time data |
| All ages | Affordable dashboard, data collection and analysis solution |
| High level of trust | Coordination across state departments is currently ad hoc, not systematic or sustainable |
| Accessible political arena | |
| Support from Government Efficency & Accountablity Review Board (GEAR) and Delaware Quality Partnership (DQP) | |