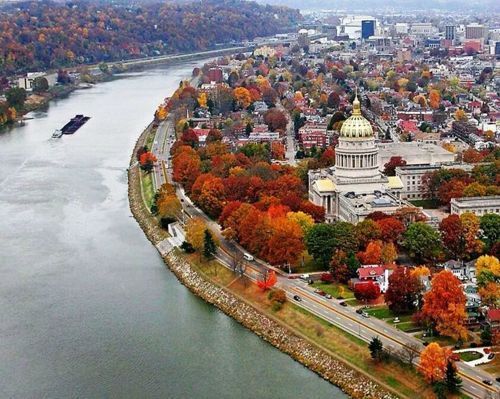 Community Definition and Identity
We define our community as Kanawha County, West Virginia. Kanawha County began to take formation in November 1788 under authorization of the Virginia General Assembly and was founded in 1789. The county was named after the Kanawha River, which in turn was named after the Indian tribe that lived in the area. Now, a total of 178,124 people live in Kanawha County, making it West Virginia's most populous county. Its county seat is Charleston, the state capital. Kanawha County is part of the Charleston, West Virginia Metropolitan Statistical Area - the state's business, financial, medical and governmental center. Kanawha County encompasses 902 square miles. Within Kanawha County there are 8 cities, 8 towns and 12 unincorporated communities. 75% of the county is urban; 25% rural. Between 2010 and 2019 the population fell by 14,929 persons, a change of -7.7%. 89% of the population is white, 7% African American and 4% other. 27% of all occupied households are family households with one or more children under the age of 18. The median age is 43; with nearly 21% of the residents aged 65 or older.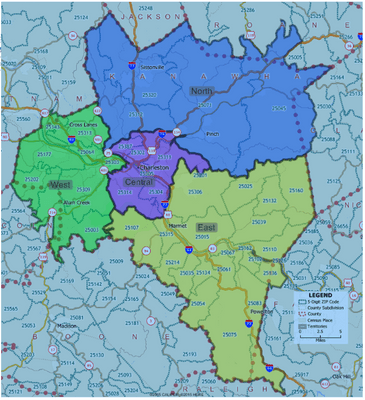 Key sites and landmarks include the Clay Center for Performing Arts, West Virginia State Capitol, West Virginia Cultural Center, South Charleston Mound, Mardi Gras Casino and Resort and the Charleston Convention Center. Kanawha County serves as the central employment location for a nine-county area. More than 11,000 people commute from neighboring Putnam County, while more than 2,000 people commute from Boone and Lincoln counties, respectively. It is not uncommon for workers to travel up to an hour one-way for work in Kanawha County. Kanawha County began year 2020 with an unemployment rate of 4.9% and has seen that rate increase to 10.7% (June 2020) during the COVID- 19 pandemic.
Kanawha County's health care providers include Charleston Area Medical Center, West Virginia's third largest employer, the largest not-for-profit hospital in WV and recipient of the 2015 Malcolm Baldrige National Quality Award; Thomas Health System; Highland Hospital; the Kanawha-Charleston Health Department (the first accredited Public Health Department in WV); West Virginia Health Right; Cabin Creek Health System; and Family Care, a Federally Qualified Health Center.
The Kanawha Coalition for Community Health Improvement has been in existence since 1994 addressing health needs in Kanawha County. Our mission is to identify health risks and coordinate resources to measurably improve the health of the people of Kanawha County. Members include the county's hospitals, behavioral health facility, federally qualified health center, United Way, local health department, school system, faith-based partnership, Charleston Area Alliance (business alliance) and the State Bureau for Public Health.
Kanawha County exhibits a strong sense of community, consisting of caring and engaged community members who are willing to work together to improve Kanawha County. Kanawha County has a reputation of being a friendly and "kind" community, welcoming both new residents and visitors.
Key Challenges and Advantages
| Advantages | Challenges |
| --- | --- |
| Quality and availability of healthcare services including Level I Trauma Center and highest level NICU and PICU | Age and health of our population |
| Healthcare education programs including medical education and residency programs | Opioid crisis |
| Health research and clinical trial opportunities | Workforce preparedness |
| Quality education system | Downturn of coal industry |
| Improving high school dropout rate | Terrain is a challenge with little flat land |
| Charleston is the seat of WV government | Aging infrastructure |
| Tourism | Retention of young people |
| Abundance of oil and gas resources | Recent increase in the homeless moving into Charleston |
| Strong family connections | Increased demand for social services |
| Sense of place | Recovery from natural disasters |
| Comprehensive/collaborative network of social services | |
| Kanawha County has a long history of working together across disciplines and competing interests to address problems and issues | |
| We could reframe our history and our future through Communities of Excellence | |