Louisiana
The state of Louisiana is in the deep south region of the United States. It is the 19th smallest state by area and the 25th most populated of the fifty states. Originally colonized by the French during the 18th century, it became U.S. territory as part of the Louisiana Purchase in 1803 and was admitted to the union in 1812. In Louisiana, local government units known elsewhere as counties are called parishes.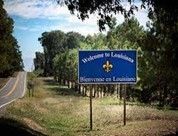 Louisiana is a leader in natural gas, salt, petroleum, and sulfur production. The state also produces large crops of sweet potatoes, rice, sugar cane, pecans, soybeans, corn, and cotton. Leading manufactured items include chemicals, processed food, petroleum and coal products, paper, lumber and wood products, transportation equipment, and apparel. Louisiana is also a leading source for crawfish, shrimp and alligator products.
The Louisiana capitol is Baton Rouge. The largest city is New Orleans, home to the historic port city New Orleans and famous for its unique cuisine, jazz and annual Mardi Gras. Other large cities in the state include Shreveport, Lafayette, Lake Charles, Monroe, Alexandria, Bossier City, Houma and Kenner, each with its unique sites and historical significance. Rural communities make up about 80% of the state with nearly 26% of our population living in these rural areas. The remaining 20% is urban and suburban.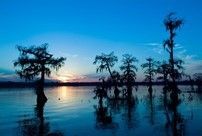 The French Quarter is New Orleans' oldest and most famous neighborhood. Its beautiful buildings date back as far as 300 years, many with wrought iron balconies that extend over the tourist-filled sidewalks below. Jazz clubs line pedestrian-friendly Royal Street, which is also known for its antique shops and art galleries.
Louisiana's population is 4,657,75 with a high percentage of Cajuns and Creoles living in the southern portion of the state. Louisiana's population still greatly reflects the state's history and 8.6% of the state's residents speak a language other than English at home: 3.5% of the population speaks Spanish while 3.4% speak French, including Louisiana Creole and Cajun dialects.