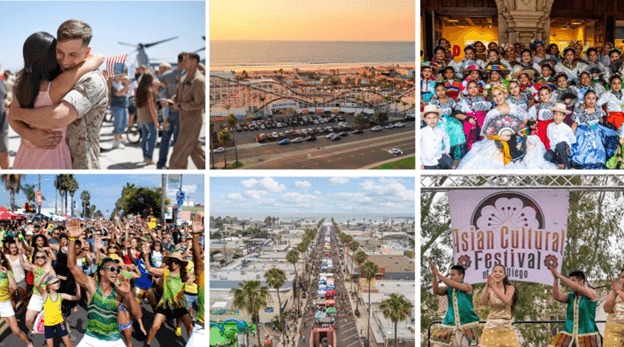 Community Definition and Identity
The North Central Region of San Diego County is a diverse area with a population of over 656,000 residents. It includes coastal towns, university communities, suburbs, and military facilities, comprising 24 smaller communities. In 2019, the population was primarily White (55.9%), with significant Asian (19.1%) and Hispanic (16.6%) communities, along with smaller Black, American Indian, and other groups. The North Central Region is home to many immigrant and refugee communities which brings a wealth of diverse lived experience, languages, cuisine, and other customs. This diversity is a sense of pride for the region and is celebrated in multicultural festivals and other community events. The North Central Region has a significant military presence, featuring a Naval and Marine Corps base and military housing. Prominent educational institutions like UC San Diego and the University of San Diego serve as cultural and intellectual hubs. The region also houses renowned research institutions (e.g., Scripps, Salk Institute) and hospitals (e.g., UC San Diego Health, Sharp Memorial, Rady Children's Hospital). Additionally, there are excellent public and private schools, parks, and recreational facilities throughout the area.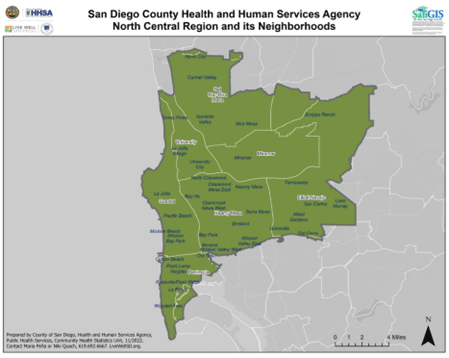 The Live Well San Diego North Central Community Leadership Team (NCeCLT), consisting of diverse partner organizations (e.g., non-profit, healthcare, government, academic), has convened since 2012 to share and increase access to resources, promote health campaigns, and support community projects. The COE Framework aligns with the mission of the NCeCLT, aiming to identify regional needs, priorities, and collaboration opportunities to advance equity. In April 2023, NCeCLT identified priority areas for the North Central Region and established three workgroups: Behavioral Health, Food & Housing Insecurity, and Youth. Each workgroup has crafted Community Enrichment Plans to address specific health needs and improve outcomes.