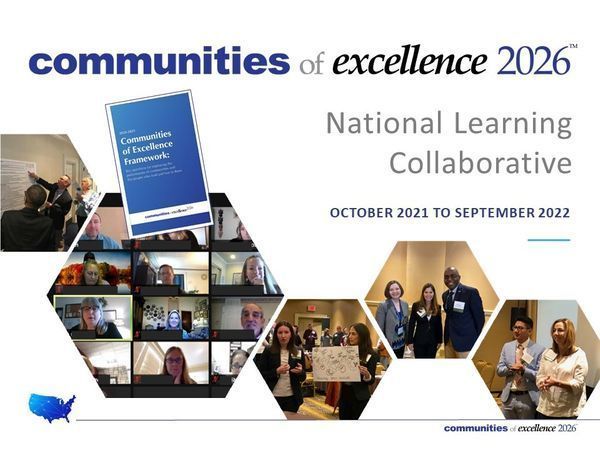 We are now accepting applications for communities to join the 5th National Learning Collaborative Cohort beginning October 2021
Watch the Recording and view the PowerPoint from our Informational Webinar on May 17th, 2021.
Download our Learning Collaborative Information Booklet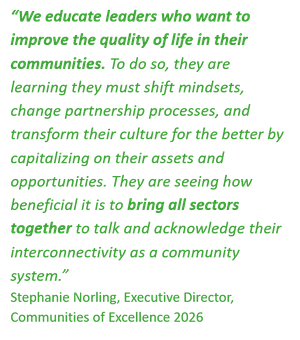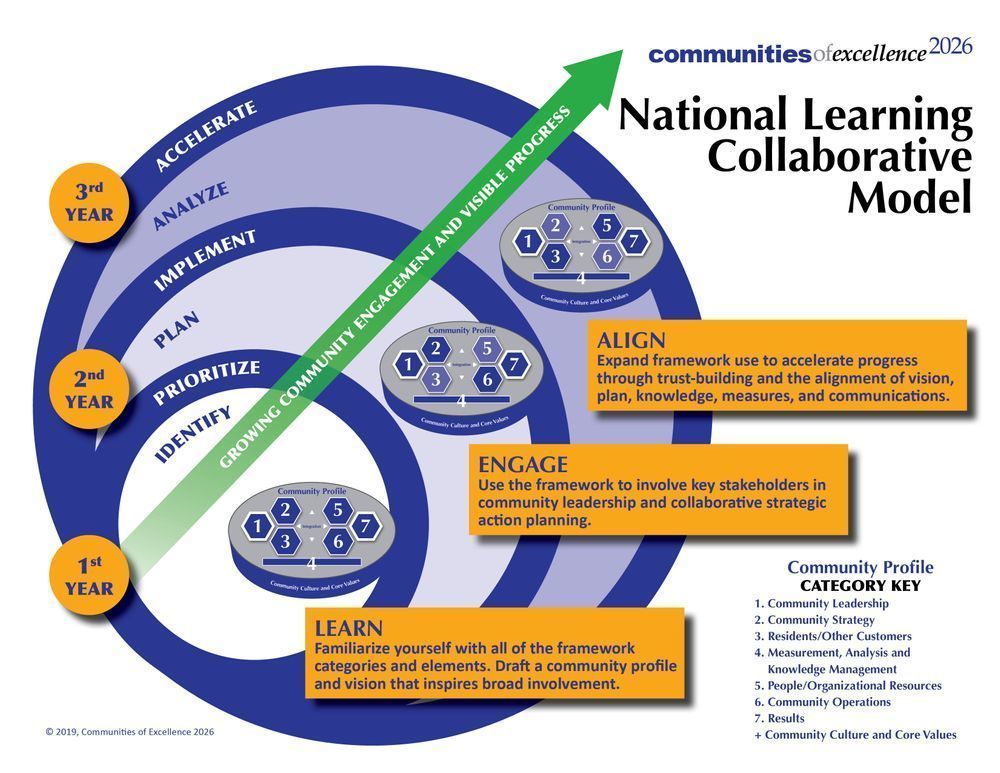 Communities benefit from a systematic approach familiar to and used by all entities within communities that ensures federal, state, local, and private sector efforts are aligned and integrated to maximize their benefit and impact.
Cohorts of up to 6 communities across the United States participate in a kick-off event and regular virtual sessions to train leaders in the adoption of the Communities of Excellence Framework as a roadmap to address their most pressing issues. 
The collaborative includes twice monthly cohort-wide online sessions, monthly mentor sessions, and periodic expert reviews of progress.  Online sessions are led by COE 2026 faculty and invited presenters for cohorts of up to 6 communities.  Sessions allow communities to ask questions, discuss challenges, and share best practices among cohort communities and often include assignments that assists the community to build their Profile and develop their Leadership and Strategic Plan.  The learning collaborative officially begins in October 2021.  However, immediately after your application is received there is an initial assessment involving confirmation of key dates, roles, and expectations.  New this year…we are offering optional BONUS community collaborative leadership development
sessions in September for all participants prior to the beginning of the collaboratives regular schedule.
Download our Learning Collaborative Information Booklet
For More Information
Please contact Communities of Excellence 2026 Executive Director Stephanie Norling at snorling@communitiesofexcellence2026.org.