Karin Johnson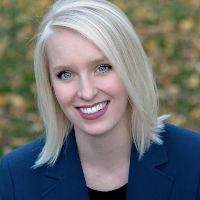 Graduate School attended: University of Minnesota School of Public Health
Graduate Degree or expected: Master of Healthcare Administration 
Undergraduate School attended: University of Wisconsin – La Crosse
Undergraduate Degree or expected: Triple major: Public Administration, Political Science, English Rhetoric and Writing
Specific Area of Interest within Field: Managed care
Hometown: Bloomington, Minnesota
Why did you want to be a Kruse Communities of Excellence Scholar?
We know that only 20% of someone's health status is predicted by clinical care, so it's up to healthcare leaders and community leaders to work together to affect the other 80%. We're at a critical moment where the cost of healthcare is so high and the system so fragmented that there are many communities searching for answers. Moving forward in pursuit of better health outcomes for communities demands that we think differently and work together.
I'm thrilled to dedicate time to learning how to do this best, and even more thrilled to be part of a network of people who think the same way.
What is your vision for a "community of excellence"? 
A healthy community that sees "health" as more than what happens in the doctor's office – a community that addressed health and well-being so far upstream that it challenges the way healthcare delivery systems work today. Communities of excellence realize that excellence, and health, are more than just single episodes, but long-term commitments to relationships, learning, and growth.
What are you most passionate about in your community?
I love that I have relationships with my neighbors. I haven't lived here long, but we know each other's names, what is happening in each other's lives. We see one another at the grocery store, coffee shop, and exercising – and everyone makes time to check in. I live in a place where people from all walks of life are genuinely invested in the community that surrounds them, and that's exciting.
FUN FACTS
What has been your favorite class: Healthcare Delivery Innovation
What are your favorite hobbies by the season:
Summer: Cycling
Fall: Yoga
Winter: Downhill skiing 
Spring: Running around the many lakes in Minneapolis
What is something unique about you: When I was in college, I was appointed, and later elected, to a seat on the County Board in La Crosse County, Wisconsin. I represented La Crosse County's District 5 for three years – and it was my dream job!
What's the favorite place you been to? Bergen, Norway
Where do you want to live? It's been below zero all week – anywhere warm!