Current Community Cohorts
We began with 2 pilot community sites in San Diego County's South Region and Northwest Missouri and their enthusiasm and progress convinced us that it was important to take our efforts to the next level. In 2017, we launched our 1st National Learning Collaborative consisting of 6 communities across the US. Currently, there are 25 communities involved, representing a cross-section of rural, suburban, and urban communities throughout the country who are tackling challenging issues such as childhood obesity, mental health, substance abuse, and lack of quality education and job opportunities.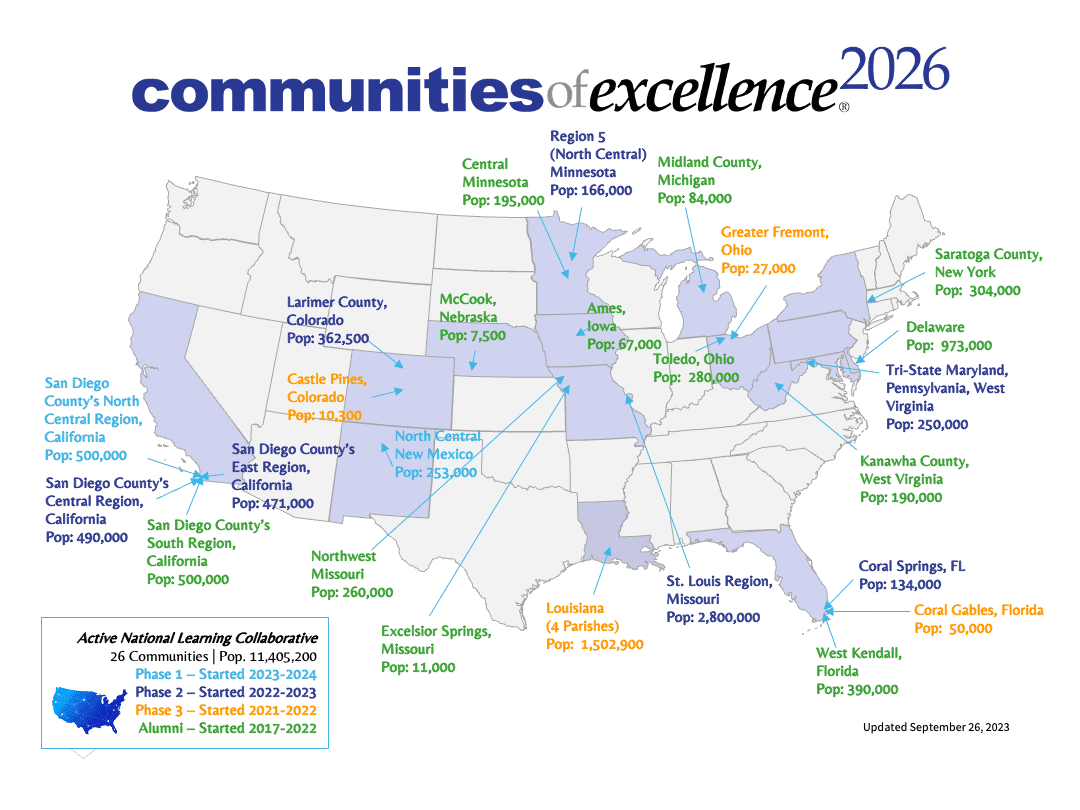 In addition to their community-focused work, they work together across communities to shared approaches, best practices, and challenges, with the ultimate goal of improving the overall health status, educational attainment and economic vitality for their residents.  We are stronger as communities when we work together across the community to implement solutions to the grand challenges we face.  Communities of Excellence 2026 believes that these communities will be even stronger when they have the opportunity to work with other communities in a positive and engaging learning environment.
Learn about the Communities Involved
Alumni - Started 2017 - 2021
Phase Three - Started 2021-2022
Phase Two - Started 2022-2023
San Diego County East Region, California

San Diego County Central Region, California

Tri-State Maryland, Pennsylvania, West Virginia
Phase One - Started 2023-2024